5 Reasons to visit Cartagena in November
You Should Visit Cartagena in November. Here's Why.
Tourism in Colombia is booming, but it hasn't always been that way. Even ten years ago, Colombia was far from a hot destination due to negative perceptions of safety in the country. Even now, many Americans shy away from exploring this stunning Andean country, but you shouldn't. You still have time to visit before Colombia becomes a well-trodden destination and loses some of its offbeat appeal.
The capital of Colombian tourism is Cartagena. This beautiful walled city is the second-most visited in the country and is best explored on foot. You can wander through the cobblestoned streets past colorful, crumbling buildings whose balconies overflow with bougainvilleas. Cartagena offers the best blend of old and new; the historic architecture provides a stunning backdrop for hip bars and trendy restaurants.
Fortunately, Cartagena has yet to go mainstream in the way Cancun, Florida, or the Dominican Republic have. This year, Cartagena was voted as one of the
top ten best travel destinations to visit in 2017
, meaning that tourism is likely to swell in the near future. Beat the crowds and visit before it loses its unique charm. Here are a few reasons to plan your trip to Cartagena for late November.
1. Cartagena is sunny all year around.
It's hard to beat the weather in Cartagena. Although it cools down a bit from December
to March–hence the increased tourism–the average temperature in November is still in the mid-80s. November in the U.S. is known for being gray and soggy just about everywhere. You don't have to wait for a tropical spring break vacation to get a break from the cold. Go in November before the crowds get there.
2. You will beat the rush and get the beach to yourself!
Cartagena is busiest from December to March, with the peak of tourism happening on
New Year's Eve. Further, by avoiding the winter rush, you are likely to get prime
locations like the Islas del Rosario and the San Felipe Castle all to yourself. Don't fight
through swarms of people to get the best spot on the beach; travel while it's still warm
and enjoy the peace and solitude.
3. Flights are cheaper than in December-March.
By avoiding the holiday season, you will be able to find promotional deals on round trip
flights between Cartagena and the U.S., saving you lots of money on a trip. Since most
people travel in winter or spring, visiting in fall is the best way to avoid paying inflated airfares.
The best time to buy tickets for a November trip is in early to mid-October. Nate Van Haute, founder of student travel consultancy
Viahey
, advises that "the ideal time to book a flight is 6-8 weeks away from the date of departure" – so get your tickets soon to get the best deal.
4. It has the best fruit in the world.
Sure, Cartagena may have the tastiest fruit all year-round, but by November all the summer fruits in the U.S. have disappeared and it's pretty much just apples and oranges until spring. Not so here. Colorfully dressed "palenqueras" are the symbol of Cartagena and sell juicy produce from ceramic bowls on every street corner. Originally from San Basilio de Palenque, the first free slave town in the Americas, these women are revered and artistic representations of them abound in this city. Enjoy sweet pineapple and fresh mango as you explore the streets; just make sure you thank these hard-working women who are an integral part of the unique heritage of Cartagena.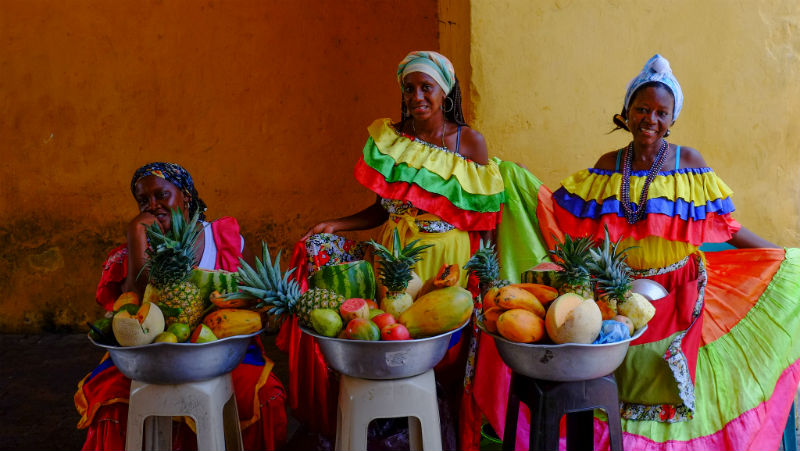 5. Thanksgiving offers just enough time to visit and see it all.
Most guides would recommend spending around four or five days in Cartagena to have time to see it all. Luckily, as Americans, we get four days off for Thanksgiving, so by taking just one day off work or school, you can see the whole city and more. It is the perfect escape from rainy November – and you don't even have to waste your vacation days.
Best of all, Colombia and Cartagena continue to be extremely good value for money and you can comfortably get by on about half of what you spend in the U.S.
Flights leave from major airports to Cartagena for about $500 round-trip nonstop. Some airlines provide flights that route through Panama City or Bogota for cheaper. We recommend purchasing flights at least 6 weeks in advance of flying (and on a Tuesday in incognito mode) to get the best deals.
For more insider tips on travel in Colombia, sign up for our bi-weekly newsletter! We promise we'll only reach out with relevant articles and blogs about travel and life in Latin America to help keep you updated on exciting trends in the region.